Back to overview
Sign in with Apple: the secure alternative
---
Identity fraud is one of the most rapidly growing online criminal activities. Hackers gain access to personal data by hacking into companies that collect large quantities of data. It is wise to reveal as little as possible about your identity. And Sign in with Apple makes that possible.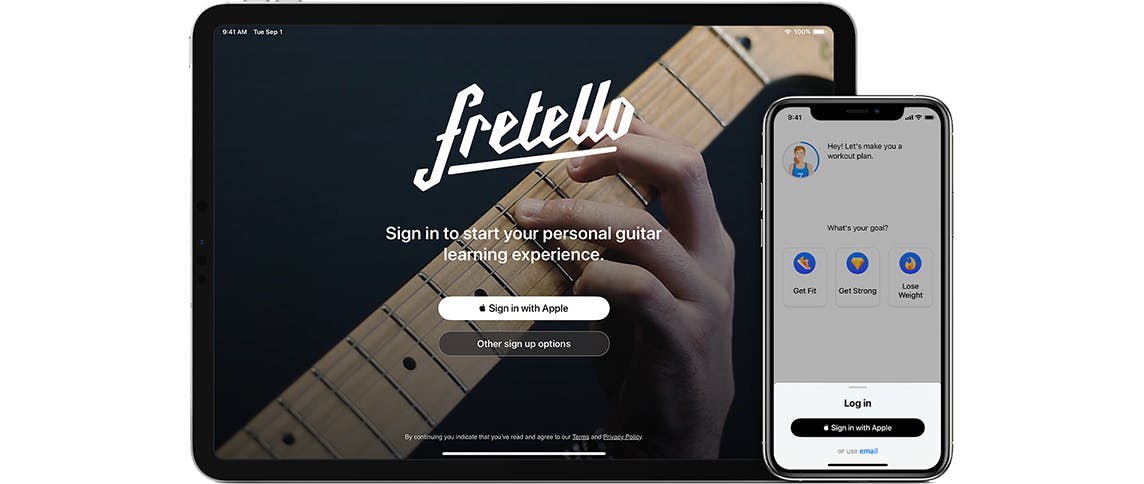 Criminals are focusing more and more on obtaining personal data for identity fraud. Companies that aren't even involved in processing personal data nevertheless want information about their users and website visitors. Leaving as little personal data behind as possible is always the best option. One of the ways of doing that is by using Sign in with Apple.
Public identity
With many apps and websites, you have the option of logging in by means of Google or Facebook. Easy and appealing at first glance, as there is no more need to remember and save a log-in name and password. However, utilising these log-in options reveals more information about you to the companies behind the app or website. In addition to your email address this often includes your home address and third-party data, such as lists of friends. Naturally, you also reveal to that "third party" that you are using the app or website concerned: another link in the chain of information they already know about you. If the company behind the app or website is hacked, your identity becomes public.
Sign in with Apple is as clever as it is easy. And secure. Because privacy has top priority at Apple: no sharing data with third parties. In addition: there is nothing to share, because Apple does not collect personal data. There is not even a real need to share your email address with the app: you can have a random email address generated that will forward email to your real address.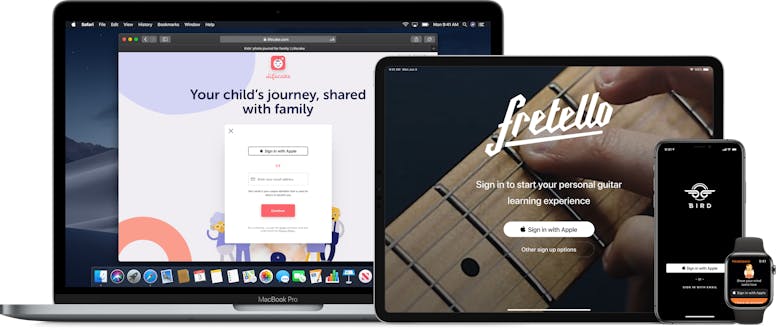 You can even create a log-in without your own email address, because Sign in with Apple generates an address for you and forwards your mail.
How it works
When you log into an app or website for the first time, you are often asked to create an account with an email address or a password. If you opt for Sign in with Apple , you use your Apple ID to create an account. If you don't want to use the email address that goes with your Apple ID, then you can select "Hide my email". A one-off, random email address is created that is only used for this account and that will forward any emails from the app or website to your real email address. The company only sees this random email address. Authentication takes place behind the scenes and you will not need to click on a confirmation link.
From that point on, logging into the app or website takes place using your Apple ID, including Face ID or Touch ID, and the authentication is performed by Apple. Your Apple ID and password are never sent to the website.
Apple does not earn any money with user data and will not track you.
Works on all Apple devices
Sign in with Apple always works on all Apple devices: iOS (iPhone, iPad and iPod Touch), Mac, Apple TV and even Apple Watch. Are you visiting a website where you forgot that you already had an account? Not a problem! Because Sign in with Apple is linked to your Apple ID, your device knows what your account was and will automatically log in.
One more important thing to know: Apple does not collect your data and does not track your activities in apps or on the Internet. Unlike Facebook and Google, Apple's business model does not include earning revenue from data. You can read all about this on Apple's website.
Sign in with Apple works on all Apple devices.
Interested in purchasing one? We will be happy to help you make a choice, including for your company.
Contact us
Share article