Back to overview
Tekle Holographics: real-time holograms with the Apple M1 chip
---
Volumes have already been written about the special features of the Apple M1 chip. Intensive users, in particular, reap the full benefit of the chip's power. One of these intensive users is Tekle Holographics, a Dutch company that develops innovative, real-time holographic applications.
Anyone who searches the Internet for experienced users of the M1 Mac will find nothing but praise for its performance. Forums for people who use it for very specialised purposes, such as composing and mixing music, graphic design and video editing, are wildly enthusiastic. A less obvious industry that also benefits from the power of the new M1 chip is holography.
Tekle Holographics converts real-time data into holographic images. That sounds simple, but it isn't. The crux of the matter lies in the 'real-time' aspect. It takes a lot of computing power to construct a hologram under any circumstances, let alone when it has to be done using live data, in real time.
Digital twin
Tekle has succeeded at developing solutions that enable holograms to be constructed based on real-time data. This brings special applications, such as generating a holographic digital twin of a city, within the realm of possibility. That would enable you to view live images of where traffic queues are based on a constant flow of data.
Another application relates to construction. Tekle has developed a solution that can take data from a Building Information Management system and display it as a hologram. This offers much more functionality than a scale model, of course. Not only can you walk around it, but you can also zoom in on certain parts or display just one particular floor. Or just the electrical system.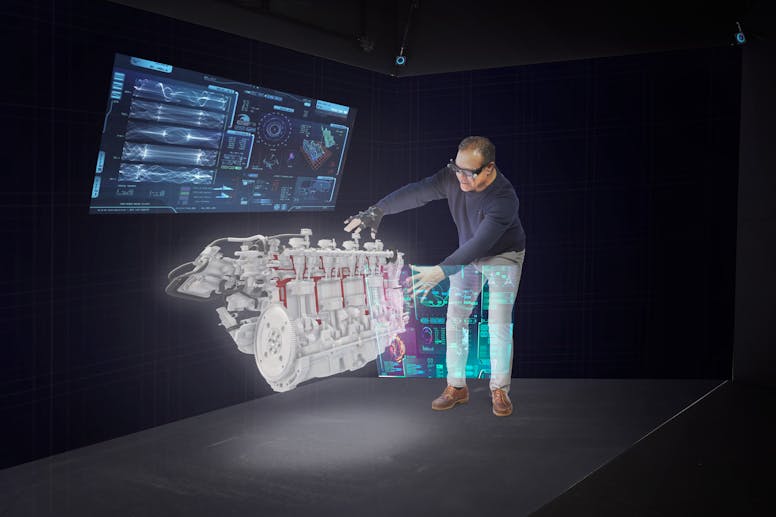 More than VR
Holography goes far beyond AR or VR. You can literally walk through a hologram. And, perhaps even more importantly, you don't need a cumbersome headset to view it. That means that you can always see your surroundings. For example, multiple people can stand at the holotable and see the design of a building while consulting one another at the same time.
The M1 helps Tekle with its computing power because while the special high-performance cores and GPU cores are lightning-fast, they need specially developed technologies in order to perform the multibody dynamics calculations. This shortens development times, which leads to savings not only for Tekle, but also for its customers.
"We have seen our speed increase by a factor of approximately 3.5", says Michel Tzsfaldet, Tekle's founder and CEO. "This enables us to process more data in real time than we could with our previous Mac, which was equipped with a quad-core i9. The processor also uses significantly less energy."
Apple M1: a peek under the bonnet
The M1 chip is a system on a chip. That means that the various elements are integrated in a single chip: CPU, GPU, RAM, etc. The distances between those elements are ultra-short. That means information can be exchanged at lighting speed without having to be routed through sluggish interfaces. For example, the M1 Pro communicates with the RAM at a rate of 200 GB per second. The M1 Max does the same thing at a rate of 400 GB per second.
The CPUs in the M1 consist of high-performance cores and high-efficiency cores. The latter are ideally suited to everyday work, such as writing text, reading and responding to e-mails and surfing the Internet. They use very little energy for these functions. For the heavyweight calculations – such as editing images or video – the high-performance cores leap into action. On average, M1 processors effectively deliver much more processing speed than comparable chips while consuming only a tenth of the energy.
Would you also like to benefit from the power of the new M1 chip?
We can assist you with advice, purchase, Apple lease and implementation.
Contact us
Share article