Back to overview
Video conferencing dos and don'ts – and a few tips!
---
We have worked at home more than ever before since the spring of 2020. Now nearly everyone is an expert in videoconferencing as a result. There is still much to be improved, however, even for the highly experienced. Benefit in full from videoconferencing!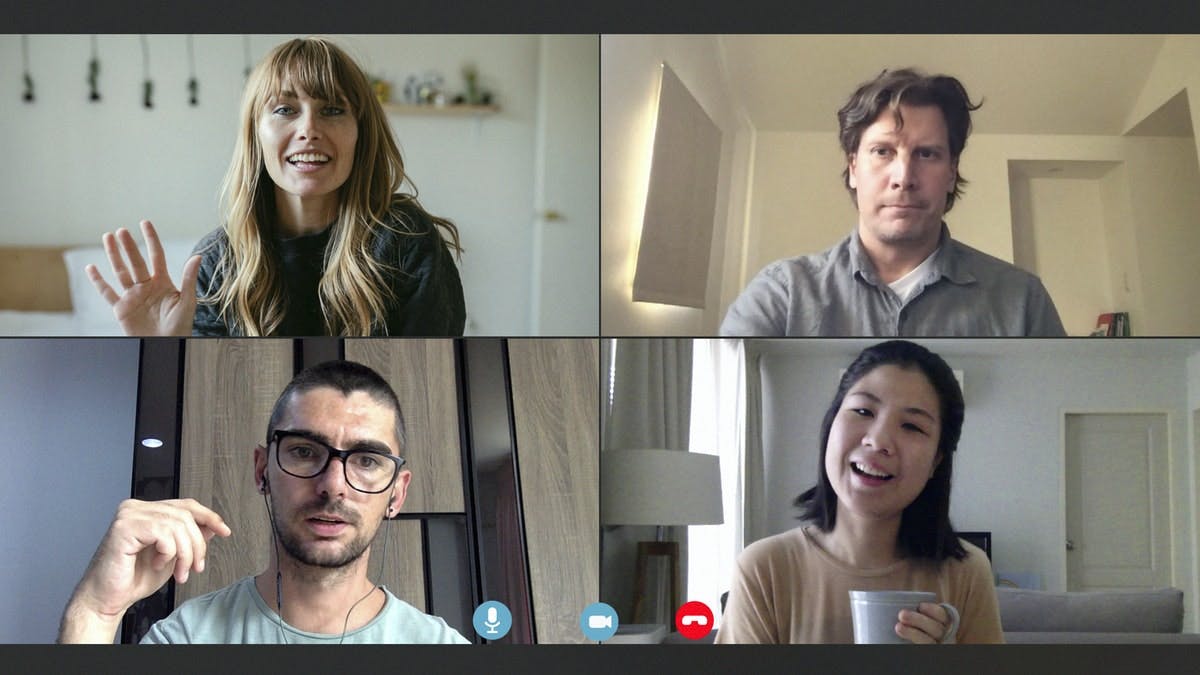 Hardware
Most laptops are already equipped with a standard camera that is very suitable for videoconferencing. This is not always the case with desktops. Usually you will need to purchase a separate camera.
You also need speakers and a microphone, of course, to participate in videoconferencing. Usually, your laptop will also have these. But if you videoconference often, you have probably already noticed that the speakers and microphone do not provide the best sound quality. Maybe this is not all that bad to your ears, but the other participants probably do not enjoy your setup. There is always a delay in the reception of sound and images via the Internet. And then the sound from the speakers can be heard through your microphone. This means that the other participants hear themselves, but then after a significant delay.
Another reason is that the built-in microphone is very sensitive. It must be able to register your voice from a relatively large distance. This leads to registering a lot of noise from the surroundings. Even your mouse clicks can be clearly heard.
The best option, therefore, is using a headset. Sound comes from the computer directly into your ear, while the microphone built into a headset is closer to your mouth and will pick up less noise from your surroundings. The number of people who videoconference nearly every day but still use their speakers is surprising.
If you are on the road or don't have a computer on hand, most smartphones and tablets also work well for on-line meetings. The front camera and microphone will suffice, but here, too, a headset is preferred.
Software
Apps for on-line meetings have quickly become familiar to everyone. We will review a few of those most commonly used.
Cisco Webex Started in 1995 and was acquired by Cisco in 2007. The best-known business solution for video conferencing. Webex is highly scalable – up to 100 thousand simultaneous users, which means that it is popular for webinars.
Google Meet Google Meet is part of Google Workplace, of which Gmail is also a part, for example. As is usually the case with Google, it simply runs in the browser. But there are also apps for iOS and Android.
Microsoft Teams Teams is a part of Microsoft 365. Apps are available for Mac, iOS, Android and Windows, of course. Users of Skype for Business automatically migrate to Teams.
Zoom This name has become virtually synonymous to video conferencing: that is how much attention has been devoted to this company as a result of people working from home. Zoom also has apps for nearly every operating system imaginable.
Nearly all of the apps for video conferencing have a free version as well as one or more paid versions. The free versions are limited in terms of the number of synonymous users or the number of minutes that a meeting may last. If you want to record a meeting, you usually can't with the free version.
Video etiquette
With the increasing use of online calls and meetings, a number of unwritten rules have emerged that make video conferencing easier and more comfortable.
It is wise to keep your microphone turned off unless you want to say something. A cacophony is likely, certainly when there are a large number of participants,
But don't forget to switch your microphone on if you want to say something. Quote of the year 2020: "you are muted!"
Make sure you are in a quiet area when the meeting starts. Although this might seem logical, many still sit in the kitchen to participate in a video meeting.
If your only option is a messy area, adjust the background if your software supports this. Blur the background or use a virtual background so that the other participants won't be distracted.
Make preparations and have all of the relevant documents on hand. This streamlines the meeting for all of the participants.
Although you might want to start the meeting in your old togs, the meeting will be more pleasant for everyone if you get properly dressed.
Lighting is also an important aspect. Sitting in front of a window means that the other participants only see a dark spot where your face should be. So make sure your workspace has sufficient lighting.
Pay attention. Don't check your emails or do anything else during the meeting.
Do you want to optimise your setup for video conferencing?
We will be happy to help you find the right hardware and software.
Contact us
Share article